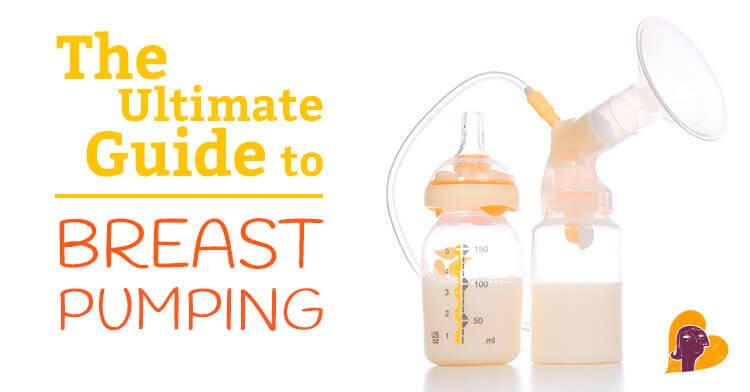 It's become common knowledge that, from the moment a baby is born, breastfeeding is the best way to go over formula. There are tons of benefits for both baby and mama with breastfeeding, but breastfeeding itself is not always as easy and convenient as one may hope. From mastitis, to getting through the two week growth spurt, to plugged milk ducts, to imperfect latches, to overactive letdown, nursing can prove to be much more difficult than anticipated.
Often times, moms need a break from breastfeeding. Whether it be for aforementioned reasons or, very commonly, work, many moms must use a breast pump in order to feed their babies at various times throughout the day. In this ultimate guide to breast pumping, you will learn about the different types of breast pumps, how to use them, the best times to pump, and how to produce the most milk!
"Breast milk is a wonderful way to nourish your infant. In choosing to breastfeed, you are setting your child up for a lifetime of health benefits. It's also beneficial for mama and creates a beautiful bond between mom and child.
However…
Some of us can't actually breastfeed every time the baby is hungry. You may need to work, go shopping or, heck, take a nap.
Sure, you're a nursing mother, but you're also human.
There are tons of reasons (from work to sickness to latching issues) that mamas choose to pump. Investing in a pump and keeping some spare milk on hand will make life less stressful and flexible for you and the whole family.
What types of breast pumps is best for you?
If you have done any research or shopped around a bit, you have probably realized that not all breast pumps are the same and that there are many different options. Don't be overwhelmed.
Here's a look at various pump types and who they're best for.
Hospital grade – electric
Hospital grade pumps are best for moms who are having difficulty breastfeeding. These pumps are work fast, can collect from both breasts at once, and will drain the most milk. You may need one of these if your baby isn't latching properly, you're having trouble building up a supply, or if your baby is a preemie. Note that these top-of-the-line pumps can be an investment.
Top end personal use pumps – electric
These breast pumps are best for mamas who pump frequently – moms who need to pump at work, for example. These also pump quite rapidly and will drain a lot of breast milk. (Pssst… This is helpful if you are using the pump during your lunch break!)
Mid-range pumps – electric or battery
These are best for mamas who pump about once a day – moms who are usually with baby throughout the day, but want to have some extra milk on hand. They do take a while to use, and won't get you quite as much milk as quickly, but are less expensive and make sense if you will only be pumping once a day.
Manual pumps
These are best for moms who prefer an inexpensive and quiet option. Some women love using manual (or hand-operated) pumps, but if you're on-the-go or need to build up a big supply, a manual pump may not be the right option for you. Keep in mind that YOU will be doing all the pumping by hand, so this method can be downright exhausting."