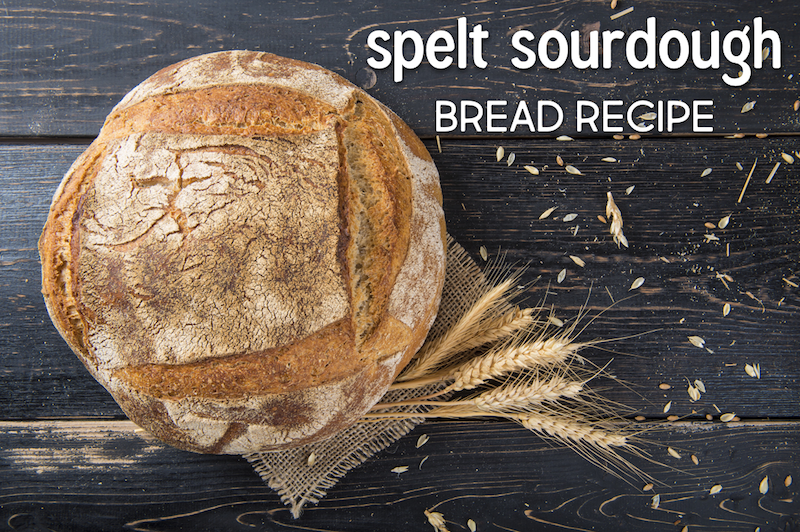 Eating a real food diet is pretty easy 99% of the time. Once you see how your body thrives without processed food and with nutrient-rich foods, it's easy to leave behind the junk. But there's the other 1% when you really miss bread. During those times, I'm thankful for gluten free real food bread alternatives like this crusty French bread and these fluffy paleo cornbread muffins. One bread I always feel good about serving my family is spelt sourdough bread.
What is Spelt Sourdough Bread?
Some of you, when thinking of whole spelt bread, may conjure images of a dry, tasteless substance that can barely be classified as food. If that's you, then I'm sorry you've never tasted whole spelt sourdough bread prepared properly. Give this recipe a try, I bet it will change your mind!
So what exactly is spelt sourdough bread? Sourdough bread is highly nutritious. It is high in protein, and due to the nature of the proteins, it results in less gluten formation during the dough-making. Additionally, sourdough is made through fermentation, with no chemical yeast, yielding nutritional value not present in many processed breads. So when you're wanting bread, sourdough is the way to go. Further, using spelt flour in the sourdough recipe boosts its nutritional content as spelt flour, while still a grain, is healthier than common wheat.
How Do You Make a Spelt Sourdough Starter?
When it comes to obtaining a sourdough starter, you have a few options:
1. Obtain a Sourdough Starter from Someone Else
This is perhaps the easiest and most frugal way to get a sourdough starter. If a friend or family member keeps a sourdough starter on hand, they may be willing to share. If someone you know doesn't have a sourdough starter set aside, try asking your local bakery. If they have a sourdough you love, ask if they'd keep a starter for you.
2. Where to Buy a Sourdough Starter
If you strike out in your search for a starter amongst locals, you can always order your own sourdough starter. We have used these starters before with great success.
3. How to Make Your Own Sourdough Starter
The third and most adventurous option is to, of course, make your own sourdough starter. This process can seem intimidating at first, but really, it just involves three simple steps:
Mix the flour and water
Feed the mixture daily
Wait for yeast to form and eat the flour (which produces bubbles)
See? It's not so scary. It does involve some patience and persistence, but after you do it once or twice, you'll feel like a pro. You can find a full tutorial here.
Spelt Sourdough Bread Recipe
Once you have obtained your sourdough starter, you're ready to get baking! Like making your sourdough starter, the process of making spelt sourdough bread may seem intimidating at first glance, just take it step by step and you'll have fresh bread on your counter in no time.
Ingredients:
About 5 cups of sifted whole spelt flour
1/4 cup sourdough starter (be sure its in its bubbly, active state)
1 3/4 cups water
1 1/2 teaspoons salt
2 Tablespoons honey
Instructions:
In a large bowl, mix sourdough starter, water, and honey.
Add flour a little at a time, and stir together with hands (you can also use a standing mixer for this step if you fancy).
Let the mixture rest for about 20 minutes. Then, stretch and fold the mixture twice.
Repeat Step 3.
Ensuring the large bowl is well-oiled, let dough rise for 6-8 hours.
Stretch and fold again.
Dust dough with flour and mold into the shape of whatever container you'll be using for baking.
Let the dough rise until it doubles in size.
Preheat oven to 450°.
Put dough in the oven and bake for 45 minutes. If you have a roaster lid, cover for the first 30 minutes and leave uncovered for the last 15 minutes.
Allow bread to sit for an hour or so before slicing and eating.
TIP: During the preheating and baking stages, place a shallow pan filled with water on the bottom oven rack. This creates moisture and therefore humidity, which enables to bread to bake more seamlessly.
Recipe adapted from TWMK.
Ways to Use a Loaf of Sourdough Bread
Now that you've pulled your freshly baked loaf out of the oven and your entire house smells heavenly, how should you devour your delectable creation? The most obvious way is to slice a piece off immediately, slather it with butter, and eat as much of it as you can before before your family corrals and wants to share 😉
Here are some other great uses for sourdough bread:
For sandwiches
As a bread bowl for soup
When it stales a bit, use food processor to make bread crumbs for healthier meat breading
Make a healthy bread pudding
Use it in stuffing
Make croutons
Have you ever made your own bread? Would you give this a try?