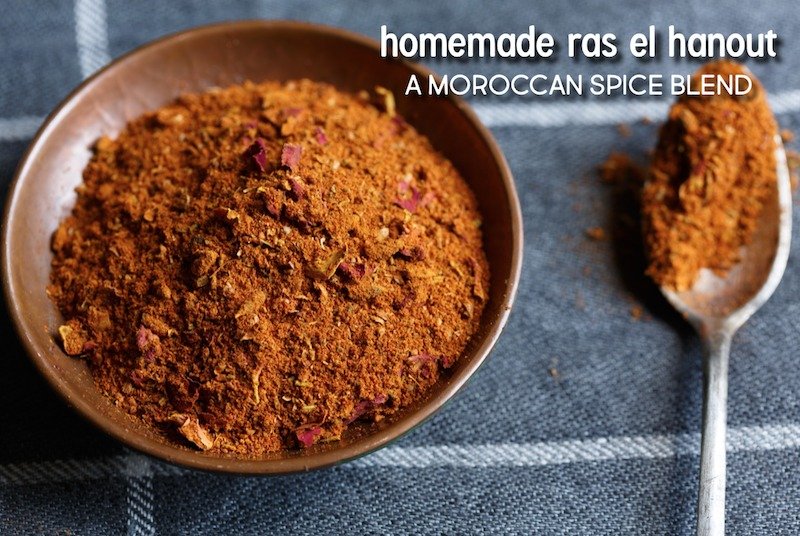 The complex flavors of Middle Eastern cuisine are unique and unmistakeable. With this recipe for homemade Moroccan spice blend, you can achieve these fantastic flavors with spices that are not only good to your tastebuds, but also good to your health. Using this spice with lamb and rice makes a great dinner for a crowd!
What is Ras el Hanout?
Ras el Hanout is a Moroccan spice blend that is composed on several different fragrant spices – anywhere from 10-80! With its various spices, Ras el Hanout has a tremendous depth and tastes great with most meat and veggies.
What Does Ras el Hanout Taste Like?
This Moroccan spice blend hits so many layers of your tastebuds. It is simultaneously sweet and spicy. The great thing about this recipe is that you can adjust it to your preference. Don't want too much spice? Go easy on the chili powder and cayenne. Looking for a super smokey flavor? Up the cumin. Keep experimenting until you find your perfect Ras el Hanout blend.
Moroccan Spice Blend Recipe
Ready for a super simple recipe? While it may seem tedious (it does use a lot of spices), you will have your first batch made in no time! I like to pull out all the necessary spices and line them up on my kitchen counter in order that I'll use them; it makes the process go even faster!
I purchase my organic spices here.
This recipe yields about 1/2 cup.
Ingredients
3/4 teaspoon ground cayenne pepper
3/4 teaspoon cloves
3/4 teaspoon fenugreek
1 teaspoon ground fennel seed
1 teaspoon dried lavender buds (grind in a spice mill then strain through a fine mesh sieve)
1 teaspoon ground orris root
1 1/2 teaspoons ground black pepper
1 1/2 teaspoons chili powder
1 1/2 teaspoons ground cinnamon
1 1/2 teaspoons ground ginger
2 teaspoons ground allspice
2 teaspoons ground cardamom
2 teaspoons ground coriander
2 teaspoons ground cumin
2 teaspoons ground nutmeg
2 teaspoons paprika
2 teaspoons ground turmeric
3/4 tablespoon dried rose petals (grind in a spice meal then strain through a fine mesh sieve)
Instructions
In a small bowl, whisk ingredients together.
Store in an airtight container, in a cool place (like a pantry or cabinet) for up to one month.
How to Use Ras el Hanout
Now that you have your Moroccan spice blend, it's time to get cooking! The great thing about this blend is that it can be used to add a Middle Eastern flare to virtually any food. Here are some of our favorites uses for Ras el Hanout:
On oven roasted vegetables
As a rub for chicken
As a rub on lamb loin chops (and try using the sous vide process!)
Stirred into rice
To jazz up your morning eggs
Want to Make More Homemade Spices?
Making your own spices and spice blends is one of the easiest ways to save money, to maximize on cabinet space, and to ensure your spices are free of fake ingredients. If you've caught the spice-making bug, here are some other great recipes to try!
Have you ever cooked with a Moroccan spice blend? Let us know how you use it in the comments!